Setup a single tier membership program in Rewardly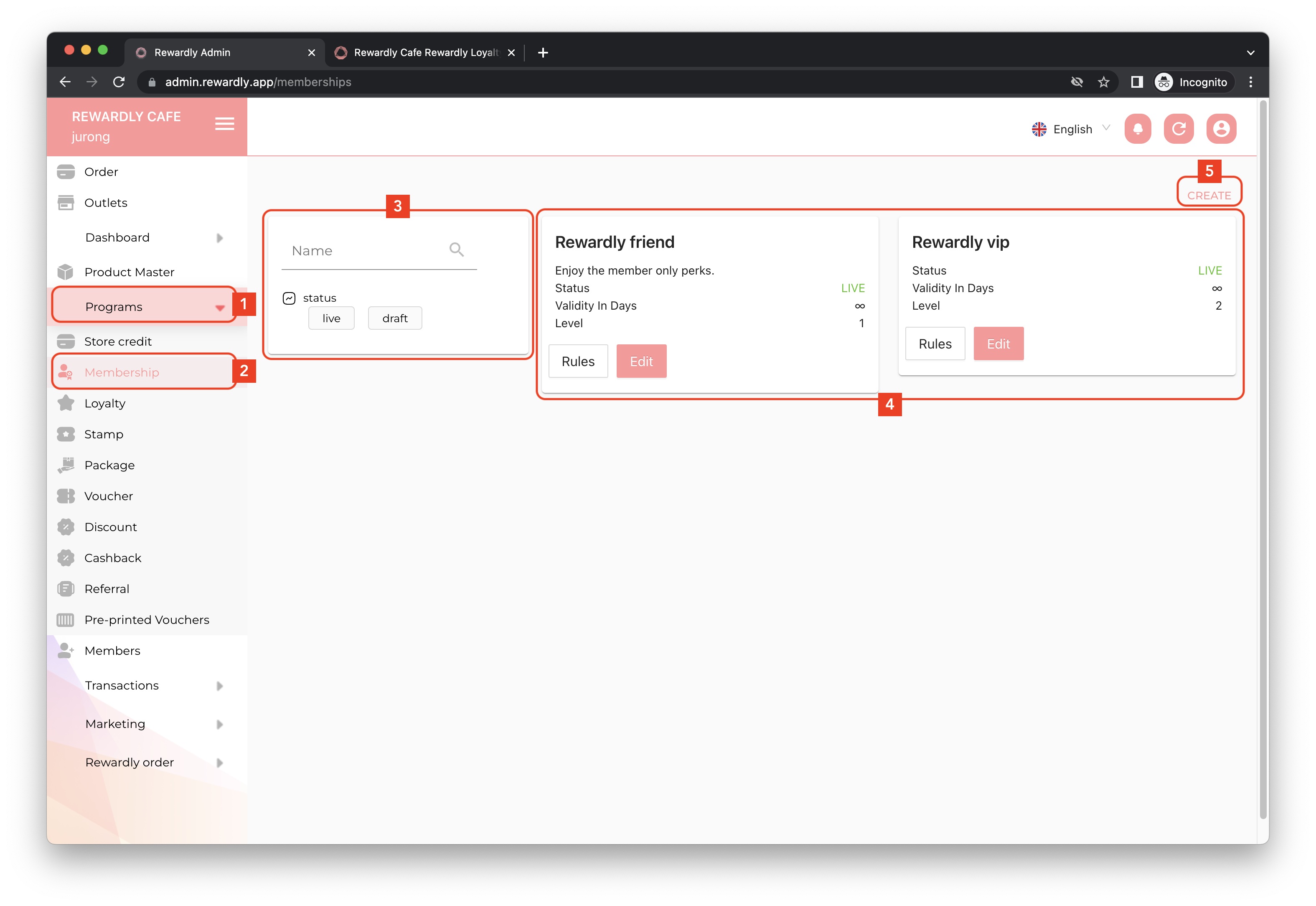 About Membership

Rewardly's membership program is designed to make member grouping effortless. With this program, merchants can easily create one or more tiers of memberships and link them to other rewards programs. Additionally, merchants can set goals for different reward levels based on the members' achievements. By utilizing this program, merchants can effectively facilitate the grouping of members without any hassle.
Let's get to know the membership program.
1

Collection of all rewards programs
2
Access to the
Membership
program
3
Search filter to find the membership programs by name or status
4
Current membership programs and their details
5
Create a new membership program
Setting up the Membership program


You can start with a simple membership program. Make it easy to signup and give out some benefits immediately so that your customer notices the benefits and establishes a positive impression towards your brands. Cultivating a positive customer experience has a great impact (positive) on your business. Learn more from Rewardly Ideas Lab.
Signup or login to the Rewardly portal.

Go to the Programs menu, click on the downward arrow icon to expand the selection .

Click Membership to access the membership program.

Manage your membership program,


Create a new membership program
1

Provide a name to your membership program.


2

Set the level (in numeric) for the current membership. The Level is equivalent to tier. A higher number represents higher tier membership with more privileges.


3

Leave blank if the membership program does not expire or set a number to represent the membership validity in days.


4

Enable or disable the membership program with this overriding switch.

Use this control cautiously, as it will suspend the membership signup or log-in immediately.




5

Provide some introduction about your membership.


6

Hide the membership from the Rewardly member app. This function is suitable for private club operation to conceal their membership from the general public.

Edit the existing membership programs
Edit the existing membership program.


Setting up Advance Rules for the membership program


Advanced rules allow the merchant to control the membership programs and create variants of mechanisms by individual outlets to motivate the members to achieve higher rewards.

Find out more about Advanced Rules in this Help article.

Other Programs that link with the Membership program

The membership program is connected to other reward programs to offer different reward mechanisms. It allows the merchant to curate a unique experience for their target group of customers and focus on the high-value tasks that impact the business growth and sustainability. Rewardly offer multiple ways of configurations to help the merchant achieve their goal and create unique membership programs.
Loyalty program. Loyalty program link with individual membership tier and allow the merchant to set different levels of point-earning ratio.


Eg. Classic members earn 1 point from each dollar spent, while VIPs earn 2 points.

Learn more about the Loyalty program with membership.

Digital stamp program. The member will earn a stamp for every fixed amount of dollars they spend, and the tie-up with membership allows the merchant to offer such benefits to an exclusive group of customers.


Learn more about the Digital stamp program with membership.

Discount program. Offer a different level of discount by the membership tier.


Learn more about the Discount program with membership.

Package program. Offer special package prices to a specific membership tier.


Learn more about the Package program with membership.

The membership loyalty program is on the rise in the F&b business. The ability to spin up a solution quickly will make a difference in your customer engagement strategy. Compared to native, mobile-first web apps are more agile and welcome by the consumer for their lightweight approach.
Related Articles

Setup a basic loyalty program in Rewardly

About Loyalty Point Program Rewardly Loyalty program provides robust configurations for merchants to design and build an attractive loyalty program. Starting from earn and burn. The merchant can decide the monetary value of the loyalty points that ...

Setup a discount program in Rewardly

About Discount Program Although the discount strategy is widely adopted in selling products or services, the discount strategy is often transactional and has a brief effect on business growth. It is widely adopted on the point-of-sale system to ...

Setup a simple digital stamp program in Rewardly

About Digital Stamp Program Digital Stamp program is very different from other reward programs. Although it primarily aims to boost customer loyalty, the digital program offers more than just a reward program. Unlike typical stamp programs, the ...

Setup a simple voucher program in Rewardly

About Voucher Program Voucher is commonly used in many businesses as it is a highly effective and versatile reward strategy for customer acquisition and retention. A voucher or coupon is presented in a printed version or digital copy. The Rewardly ...

Setup a member referral program in Rewardly

About Member Referral Program Rewardly member referral programs can be used along with other programs to increase customer acquisition strategy. The referral program allows existing customers to share an invitation link with their friends and let ...